An Italy wishlist
+ a new year and new Instagram name
January is the traditional time for fresh starts. One big change here in my small corner of the internet is a name change. I changed my Instagram handle to Gillian Knows Best. The plan for 2023 is for my focus to be broader than Rome. In the coming year both here on Substack and over on Instagram you can expect a little less Rome and a lot more Venice and lagoon content.
My inbox and Instagram feed are full of lists of 2023 hot travel spots.
This is not that. This is my very personal Italy wish list. These are the places that I hope to visit and share with you in the next 12 months.
How do you feel about resolutions? This wonderful template has sparked some great conversations in our house. My thinking has always been that it is better to add something positive than focus on something negative. In that spirit, I went back to a list that I made in January 2020. A list that I never had the heart to delete but also until now I couldn't move forward with. In my experience writing things down makes things happen. That is just one of the reasons I am such a fan of lists!
I hope that your new year is filled with delicious adventures, people you love, and most of all, health and happiness. The best part of this newsletter is you so I would love to hear about your Italy wish list. Tell me in the comments. If you have been to the places on my to-do list please give me your advice.
See the Ravenna Mosaics
I am wild about mosaics. I love stopping in to see intricate Cosmati floors and glittering ceilings when I am out running errands here in Rome. I finally got to see the magnificent Nile mosaic of Palestrina a few weeks ago. The 8 Unesco world heritage sites in Ravenna are at the top of my 2023 list. The oldest ones date back to the end of the '400s. Also on the agenda is a visit to the Museo d'Art della città di Ravenna to see the collection of contemporary mosaics.
Drink wine in the Emidio Pepe
Vineyards
Emidio Pepe was one of the very first natural wines I ever tried and enjoyed. Now it is the wine we order for celebration lunches at Al Covo or for lockdown rooftop Easter feasts. I want to spend a few nights at the family's small agriturismo with a view of Abruzzo's Grand Sasso mountains and eat Senatore Cappelli and drink glasses of crisp pecorino and velvety Montepulciano d'Abruzzo.
Island hop in Lake Garda
You know that I am not really a lake girl though I do love an island. It feels like Lake Garda might be the place that could change my mind. There are five islands dotted amongst what is Italy's largest lake. I mean one is even called l'Isola del Sogno (The island of dreams.) The gardens at the private(the noble Cavazza family still live there) Isola del Garda look pretty dreamy. Or should we go to Lago Maggiore instead?
Take a hike in the Dolomites
When we are in Venice on a cold clear winter day and see the snow-capped mountains from across the lagoon we say, this summer let's go hiking in the Dolomites. Or maybe I want to stay in a snowy alpine village, even though I don't ski? I definitely want to eat lunch with the Roma Nord glitterati in Cortina d'Ampezzo. A spa day here looks pretty great.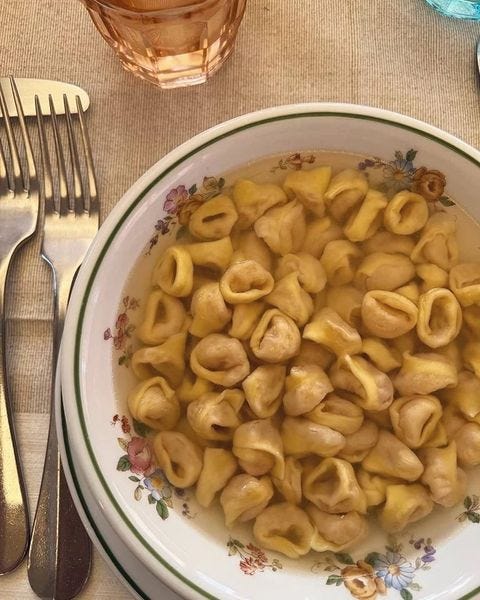 Eat Tortellini in Bologna
I eat tortellini pretty often here in Rome. When I roast a chicken the bones get saved and turned into broth. Then I go across the street and buy tortellini from Fillipo (aka Pippo Tortellino) It's a quick and easy dinner. But I know that is not the same thing as browsing the markets and shops in Bologna. This hotel has a pasta shop! I am counting on the team at Who's Emilia to guide me in the right direction.
Drink vermouth in Torino
I have been to Torino but Mark has not. I want to show him the city's historic cafes and drink bicerin's and vermouth, eat grilled chocolate sandwiches and tramezzini in as many pretty places as we can. The plan is to go during white truffle season. Also on the agenda is a visit to the race track on the roof of the Fiat Lingotto Factory (I'm more interested in the contemporary art up there than cars) and the Agnelli family's art collection.
Go to Milan
Can you believe I have never been to Milan? It is even more confounding because one of my very best friends is Milanese! I want to drink a negroni at Bar Basso and drink wine at Cantine Isole. Yes, I want to go to that fancy Starbucks reserve too. I want to eat pastries at Princi and Marchesi 1824 and have Osso Bucco with risotto at one of those restaurants with startched white tablecloths and waiters in black aprons. I must see the Villa Necci and the Triennale di Milano and the Boccioni at the Novecento and maybe add something colorful to my wardrobe from Wait and See.
Spend the night in Palmarola
We have tried and tried and tried to spend the night at O'Francese on the quasi-inhabited island near Ponza. Every year the Libeccio or Maestrale winds blow and we have to change our plans. 2023 has to be the year it happens. Right?